As soon as Labor Day is over, it seems as if everyone is ready for Fall. The temperatures stay pretty warm in the Midwest, but Fall décor starts popping up all over stores and social media, and if you're like me you think you have to go buy all new décor every season. That doesn't need to be the case, the best way to switch up décor is shopping your own house!
I loved my Fall tablescape last year, so I didn't want to change it up too much. The easiest and cheapest way to change things is just change the centerpiece or add in little details. I mean who wants to buy all new place settings every year?! Not me!
Keeping it simple is also a biggie for me. I love a simple, neutral look in our farmhouse-styled home. My themes always seem to include black, white, creams and soft greens. In my opinion, those colors can go with any season. It can be a lot cheaper to reuse the same items year-round and just add in the colored details. For example, I always use my buffalo check table runner, buffalo check napkins, the Rae Dunn appetizer plates and galvanized chargers, but change up the centerpiece. I love to add some type of greenery, so this year I added in some faux eucalyptus garland that we used for our wedding. To Fall-ify it, I added some pumpkins in random sizes and colors. It's that easy, I promise!
My go tos for home décor shopping are always TJ Maxx, Home Goods, Kirklands, Target and Amazon. In my opinion those have the most variety and the best prices! I do love finding random boutiques with hidden gems, but those stores are my most shopped.
What I include in my tablescapes: charger, napkin, appetizer plate and a table runner with a centerpiece. I have also linked the items in my pictures below.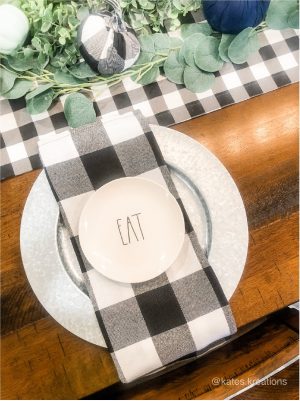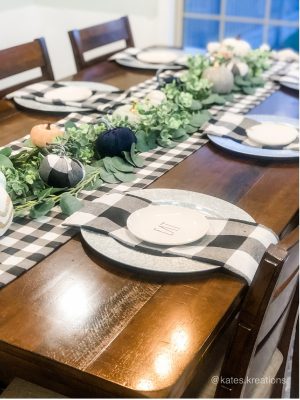 Chargers: Hobby Lobby
Napkins: Hobby Lobby
Small Plates: Rae Dunn brand. I found at Home Goods, but not available online.
Table runner: From Home Goods, but not available online.
Faux Eucalyptus Garland (small leaf): Amazon
Faux Eucalyptus Garland (big leaf): Amazon
Pumpkins: From Target dollar spot, not available online.