Compare Technologies Side-by-Side
Which products protect against corn earworm? Does your preferred seed have tolerance to Enlist® herbicides? What are the refuge requirements for PowerCore® hybrids?
The charts below empower you to compare a wide variety of seed technologies across multiple criteria.
Corn Traits and Technologies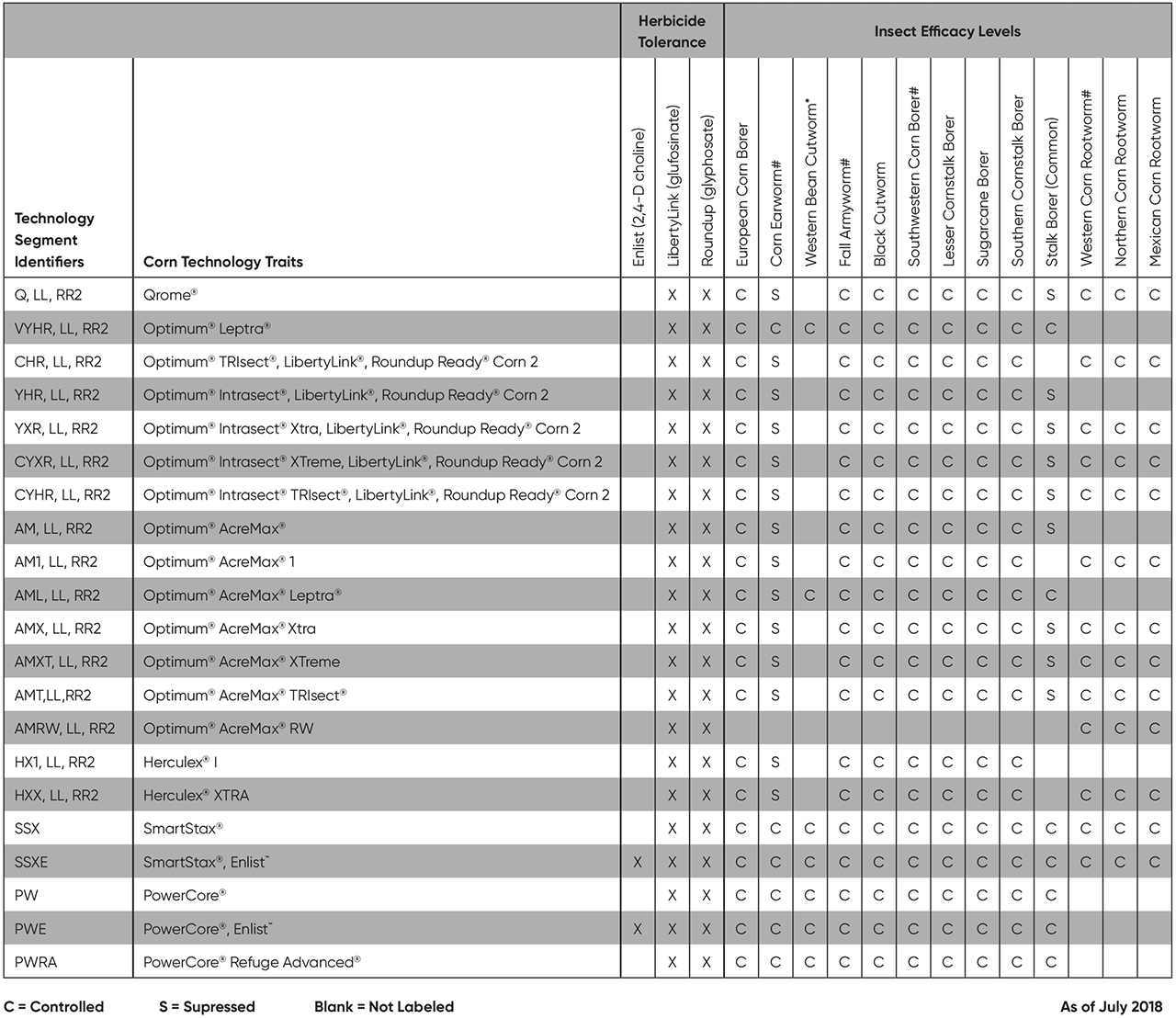 Efficacy levels based on Pioneer, Dow AgroSciences and/or independent university entomologist results against susceptible insect populations. Product responses can vary by location, pest population, environmental conditions, and agricultural practices.
# Various factors, including pest pressure, reduced susceptibility, and insect resistance in some pest populations may affect efficacy of certain corn technology products in some regions. To help extend durability of these technologies, we recommend you implement Integrated Pest Management practices such as crop rotation, cultural and biological control tactics (including rotating sources of Bt-protected corn traits), pest scouting, and appropriate use of pest thresholds when employing management practices such as insecticide application. You must also plant the required refuge when using these technologies. Please contact you sales professional or consult with your local university extension for more information regarding insect resistance management guidelines, best management practices and to understand whether there has been a shift in susceptibility or insect resistance with a certain pests documented in your area.
* Western bean cutworm has been removed from the product use statement for several corn products that contain Herculex® I (Cry1F) but lack another mode of action for western bean cutworm due to a wide-spread decrease in susceptibility indicating the possibility of field-evolved resistance to Cry1F in most geographies.
What's in the Bag?