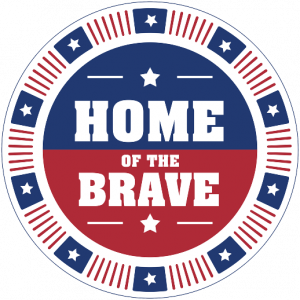 Brad Johnson is a proud military dad to sons in two branches of the U.S. Armed Services
Things are kind of quiet at the Johnson house these days. Brad Johnson, NuTech lead agronomist and product manager, and his wife, Mary, would normally have youngest son Tanner and his buddies in their house most days. But last May, Tanner headed off to Marine boot camp in San Diego, making him the second of Brad's boys to join the armed forces.
"Maybe it's true what they say about it skipping a generation," Brad jokes about
the family's military service. Brad had grandfathers and an uncle who served, and Tanner was inspired by a cousin who joined the Marines. "He's been infatuated with the Marines since he was a little kid," Brad says. Tanner talked with recruiters at age 16, then spent the next two years engaged in preparation activities, making him more than ready to officially join up once he turned 18. Tanner spent two weeks quarantined in a San Diego hotel room before his training could even begin, so he was more than ready to dive into boot camp when quarantine was up. Brad says Tanner excelled at boot camp and is now stationed at Fort Leonard Wood in Missouri, doing Motor T training, learning to drive big trucks like semis and tankers.
Brad's oldest son, Wyatt, took a different path to the military. After his first semester in college, Wyatt took a break to rethink his future and decided to enlist in the Air Force. During his four-year stint, Wyatt worked on C-130s doing electrical and air systems control work, and was deployed for a short time to Afghanistan. Now Wyatt is out of the Air Force, married and enrolled in college again. He continues his service as a member of the National Guard, and is currently deployed to Guam.
Brad sees value in the military experience for both sons. "They instill a lot of things the world needs today—discipline, focus, responsibility, integrity," Brad says, adding that he thinks both Wyatt and Tanner appreciate that their service lets them focus on the most basic and important things in life and "what really matters to humanity."
Tanner's four-year commitment will help determine his future path, but with his "gift of gab," Brad jokes that Tanner might make a successful salesman one day. Wyatt is pursuing a business degree and may continue a military career. And middle son Payton is likely to follow his dad into agriculture. Brad sees bright futures for all of them and is proud that all three of boys have found meaningful pursuits they can really engage in. "As a parent, it makes you feel like maybe you did something right," Brad says.
Throughout their military experiences, Brad has noticed that Wyatt and Tanner have found a new appreciation for home. "Wyatt had said he'd never come back to Iowa," Brad notes, "But he saw the rest of the world and said, 'Maybe Iowa's not so bad.'" He knows Tanner is a little homesick, too. Something tells us that all the Johnsons will be more than ready to gather together whenever the boys make their way home.