Experiencing the 2019 NuTech getaway in St. Kitts
One of the great perks of working in a support role at NuTech Seed® is the opportunity to join our customers on our annual getaway. I've had the chance to go to some pretty fabulous places, but the thing that makes these trips so special is the people. I love seeing our customers come together—renewing old friendships, making new ones and just having fun. I have put together some of the highlights from our last trip.
The setting
While some of our getaways are action-packed and full of excursions, this year, we selected St. Kitts for its natural beauty and laid-back vibe. There wasn't much of a schedule to keep—and that was just fine.
St. Kitts is located in the southern Caribbean, with one side of the island facing the Caribbean Sea and the other facing the Atlantic Ocean. From our hotel, it was a quick cab ride to Sir Timothy's Hill, where you got a breathtaking view of both waters at the same time.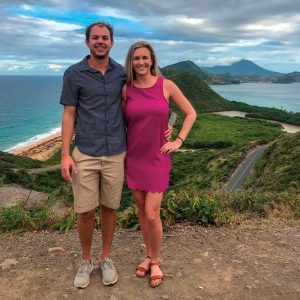 Nicole Allen and her husband Spencer enjoying the beautiful St. Kitts scenery.
Plenty to do…or not
Most days, you could find NuTech customers lounging by the pool, strolling the beach and just enjoying some well-earned relaxation. Of course, if that got a little old (as if), there were some fun activities to participate in. I personally enjoyed the rum tasting, where the local coconut cream flavor topped my list. Everyone's new rum palate came in handy at our mixology contest later in the week. The winning cocktail, the NuKitts Tango, was a hit and was served at our farewell dinner. (You can find the recipe in our new magazine, The Life by NuTech Seed.)
Others got a little more adventurous and headed out on a catamaran to snorkel in the crystal-clear waters. One of the snorkelers was Wesley Gay, who along with his wife Marcy, earned a spot on the trip as winners of our Lifestyle Photo Contest. Marcy described the getaway as, "A trip of a lifetime!! I mean, who couldn't have fun with 560 farmers??" I couldn't agree more.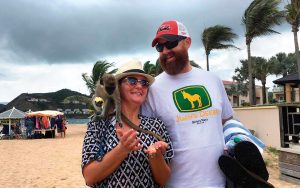 2018 Lifestyle Photo Contest winners Wesley and Marcy Gay
Love was in the air
Of course, not all of the excitement was printed on the agenda. This year's getaway featured TWO engagements.
During our karaoke night, Cordt Holub proposed to his girlfriend, Krista. And Jake Frey and his girlfriend, Megan, were engaged on the beach at sunrise. Thanks to both couples for sharing their special moments with us. Everyone at NuTech wishes them all the best!
Overall, it was a beautiful, relaxing week for everyone. We're already looking forward to our next getaway, to Panama. Look for more info here!