Katie Allen, NuTech marketing and sales support specialist, shares memories of our unforgettable getaway to Panama.
For months, we were gearing up for our annual NuTech Getaway to Panama. It promised to be an exciting and altogether different destination for us, and this trip did not disappoint. If you were with us on the Panama Getaway, I hope this reminds you of the feeling of the tropical sun on your face and the taste of the sweet, local pineapple. If you weren't able to make this year's trip, let this inspire you to join us on the next one! Every NuTech Getaway is different, but spending time with NuTech growers is always a great experience.
A perfect, private getaway
Our NuTech group had the Dreams Playa Bonita Resort all to ourselves! It didn't take long to get acclimated to the warm temperatures (perfect for swimming), sandy beaches and attentive service. Each morning, the hotel staff greeted us with the NuTech logo carefully carved into the sand, helping us all feel welcome and special.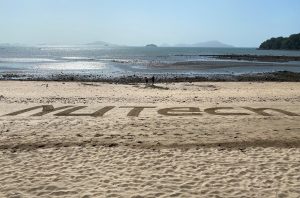 The beach at the resort was unlike what you see on most tropical vacations. Each afternoon, the tide would go out, revealing an array of beautiful rocks and shells. Low tide allowed guests to wander far out collecting treasures from the seafloor and watching the crabs scuttle around. In the distance, we could see ships waiting in long lines to go through the Panama Canal.
Hanging around the pools and beach all day playing volleyball and dodgeball was fun, but our favorite "watersport" was the pool rodeo. If you've joined us on past trips, you know that our GM Brad Damery takes pride in coming up with unique activities. We hauled along two inflatable bulls from home. Riders took turns trying to stay on a bull while the resort staff shook them side-to-side. Mechanical bull riding has nothing on pool bull riding! It was harder than you think…and just as hilarious as you'd expect.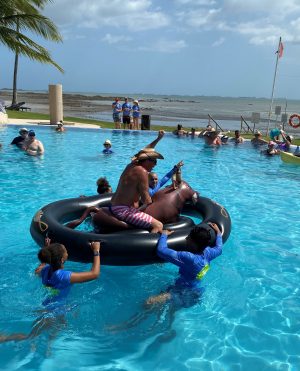 When guests weren't lounging by the pool, they explored Old Town Panama. Old Town, only about 20 minutes from the resort, was a popular destination for shopping and eating out. An eclectic area, Old Town featured a mix of homey, local eateries and high-end cuisine. Several establishments featured rooftop bars where you could enjoy the skyline of Panama City.
Other NuTech guests ventured out to additional excursions including the nearby rainforest where they took a tram to the treetops and enjoyed the local flora and fauna.
Visiting the famous canal
A high point of the trip for most of us was the chance to see the Panama Canal up close. We enjoyed cocktails while watching the enormous ships come into the locks. We were able to venture outside and see the locks in action as the ships were raised and lowered. Several guests shared that seeing the Canal had long been on their "bucket list" and was their favorite part of the trip. Dave Stutzman, a NuTech customer from Lexington, IL, said, "It was really neat to learn about the history of the canal and see how critical it is to what we do with exporting grain."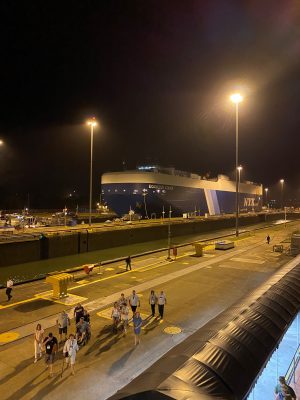 The sweetest part of the trip
Another highlight of the trip was a visit to a working pineapple farm. La Dona Fruit is a family-owned pineapple farm, and because pineapples are constantly being planted and harvested, we could see the full production process in a single visit. Raising pineapples takes a lot of manpower, something that stood out to Dave Stutzman. "Watching what they are doing on their farm was fascinating," he said. "I'd have to say growing corn and beans is easier. We can definitely rule out growing pineapples on our farm," Dave joked.
Everyone agreed the pineapple at La Dona was by far the sweetest, best-tasting pineapple they had ever eaten. Panama is perfectly positioned for growing pineapples, with just the right latitude to get optimal sunlight for ripening. According to the tour guides, a pineapple farm anywhere in the world could use the same growing techniques, but pineapples in Panama always have a special sweetness because of the country's location. Sadly, these delicious La Dona pineapples are so labor-intensive to grow—and therefore expensive—that they haven't become available in America. It's a good reason to come back and visit Panama again!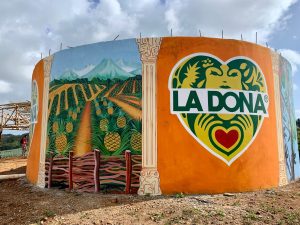 Relaxing and catching up
Throughout the trip, guests took time to mingle with each other and the NuTech team, something Dave Stutzman really enjoyed. "I liked attending 'Corn and Coffee' in the mornings with Scott Davis and Brad Johnson. That was a good time to get a pulse on the company and learn about future genetics and what hybrids they'll be bringing forward. It's also nice to see (leadership) from NuTech — they're always interested in what we're doing."
Dave Stutzman captured what we hear every year from NuTech Getaway guests: The best part of the trip is making new friends, catching up with old ones and taking time to unwind and reconnect. "As a farmer, getting away and having time to relax is hard to come by. NuTech always picks really nice places. All you have to do is show up at the airport and everything is taken care of for you."